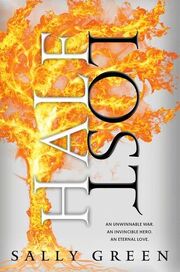 Half Lost is the third and final book in the Half Bad trilogy by Sally Green. It was released on March 29, 2016. The cover was revealed in September 2015 and a preview of the first three chapters was given on the website of the Guardian newspaper in December 2015.
Nathan Byrn is running again. The Alliance of Free Witches has been all but destroyed. Scattered and demoralized, constantly pursued by the Council's Hunters, only a bold new strategy can save the rebels from total defeat. They need the missing half of Gabriel's amulet - an ancient artifact with the power to render its bearer invincible in battle.
But the amulet's guardian - the reclusive and awesomely powerful witch Ledger - has her own agenda. To win her trust, Nathan must travel to America and persuade her to give him the amulet. Combined with his own Gifts, the amulet might just be enough turn the tide for the Alliance and end the bloody civil war between Black and White witches once and for all.
Ad blocker interference detected!
Wikia is a free-to-use site that makes money from advertising. We have a modified experience for viewers using ad blockers

Wikia is not accessible if you've made further modifications. Remove the custom ad blocker rule(s) and the page will load as expected.